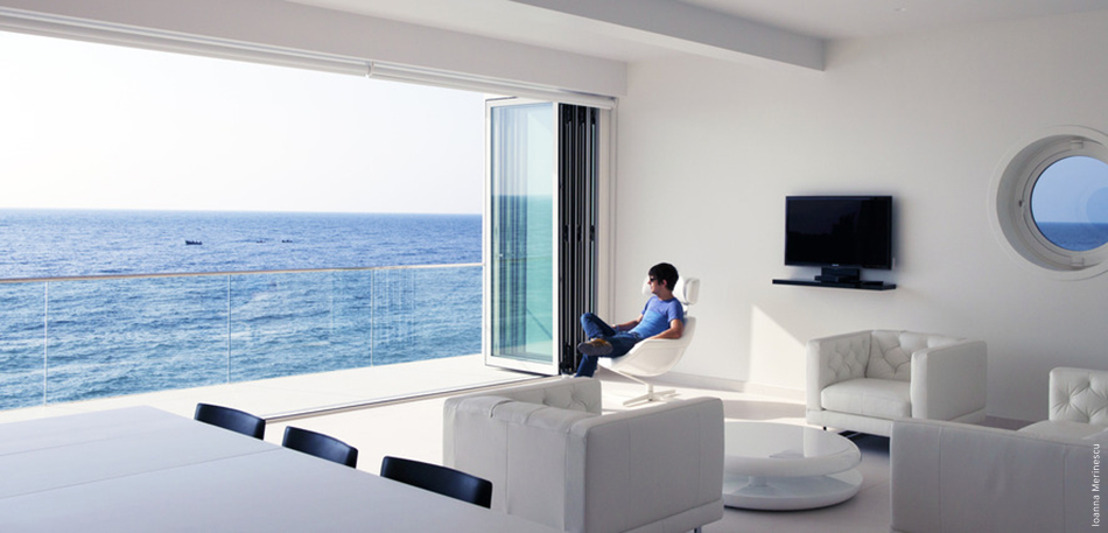 REYNAERS' NEW CF 68 FOLDING DOOR SYSTEM
OPENS NEW WINDOWS TO EFFICIENCY AND DESIGN FREEDOM
Friday, May 23, 2014 — Reynaers' new Concept Folding 68 allows fabricators improved efficiencies as a result of faster assembly times that flow from smarter designs and optimisation of profiles and accessories. Architects can creatively combine high levels of thermal comfort and security with vast transparency potential.
Duffel, April 2014 - Reynaers, leading European provider of sustainable architectural aluminium solutions, brings its new CF 68 bi-folding door at an opportune time to make a substantial contribution to the needs of contemporary architecture while saving fabricators substantial assembly time. This is mainly achieved through the smart design of its profiles and components.
The new system provides for a highly competitive versatile folding door and window solution that allows up to seven leafs to fold either to the inside or to the outside in 38 possible configurations and across four different threshold solutions. The CF 68 Folding Door solution now gives architects and builders much more diversity to connect building interiors with the external environment in numerous ways.
Innovative design
The system comes with entirely new profiles, gaskets and gear combination that enables fabricators to assemble the selected option much easier, faster and with more efficiency and accuracy.
Major advantages in efficiency and flexibility in the fabrication of the folding system are achieved by its versatility as a relatively low number of profiles offer a maximum number of configurations; all offering in- and outward opening options with the same profiles and accessories. The vent profile requires only one gasket type as opposed to between 4 and 6 for other similar solutions. No brush or supporting profile brush is required, while only one integrated carriage type and one hinge type to fold the vents are required for all configurations.
With the installation of existing systems, it is mostly recommended that the last vent only be measured and fabricated after all the others had been installed.The new design, featuring an innovative adjustable side profile, now makes it possible to install the complete folding wall on the site. It furthermore allows fabricators to easily adjust tolerances resulting from assembly deviances to deliver optimal performances in air -and water tightness.
Architectural Freedom
Architects gain even more freedom and flexibility to design combinations of large transparent surfaces that open in various possibilities without visible boundaries, compliant with the requirements of contemporary architecture. The highly competitive and seemingly endless transparent alternatives all come with superior levels of performance and efficiency.
The slim vent profiles minimize the visible width of the midsection to 131 mm and the frame to 100 mm allowing users to create an element of up to 7 meters wide with a maximum height of 2,4m in a walled surface. The already slim profile elements come in every conceivable colour to further minimise visibility and can be provided with separate internal and external colour options to match and blend with any building appearance.
The system can be equipped with a main door by adding an internal and externally handle to the first vent. All vents have exactly the same profiles and can be equipped with the same accessories, while all are compatible with the entire range of Reynaers handles. They are also fully compatible with Reynaers' CS range of window and door systems.
Sustainable comfort, elegance and safety
For the discerning consumer the CF 68 system offers a price competitive solution that answers the needs of sophisticated contemporary architecture, combining creative design, comfort, safety and space efficiency.
The folding system is designed to be smoothly opened and closed within seconds and with comfort and ease, inviting external spaces and views into the building as and when required.
The CF 68 is made available in four different threshold solutions, varying from a wheel-chair friendly flush threshold to three other options with different levels of high to low performance in terms of air- and water tightness and wind resistance. Users will be able to select the access option that best suits individual needs in terms of comfort and ease of access.
Glass thicknesses between 12 mm and 55 mm can be accommodated as can triple glazing. All options offer very high insulation U-values meeting the most recent and future market demands, with the CF 68-HI (high insulation) version being particularly well suited for high energy efficiency requirements.
The system's CF 68-AP (anti-burglary) version is classified as burglar resistant class 2, offering high levels of safety and peace of mind to owners and occupiers. The same level of security can be achieved in the standard version by simply adding a few components to it.
Erik Rasker, Technology Manager at Reynaers, elaborates on the benefits of the new system: "Modern building owners, architects and builders are all equally conscious of the needs of contemporary architecture to provide increasing levels of comfort and safety at competitive price and without sacrifice to quality and durability. At the same time modern living yearns for increased contact with the outdoors. That is exactly what we at Reynaers attempted to give our clients with the CF 68 Folding Door system. The HI (high insulation) and AP (Anti burglary proof) variants add further value to clients who have more specialised needs in these areas."