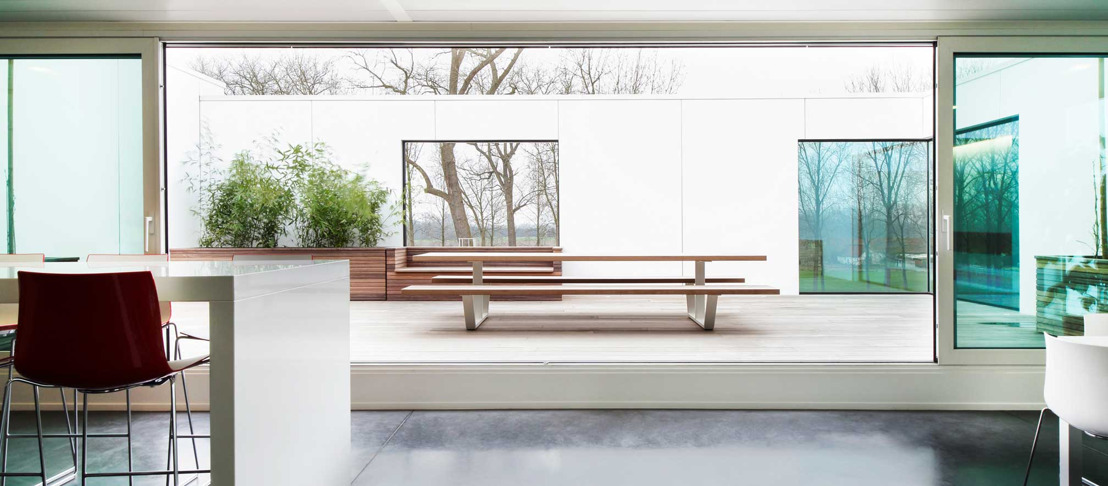 REYNAERS STEERS ARCHITECTURE TO GREATER TRANSPARENCY WITH EXTENSIONS TO CP 130 & CP 155 SLIDING SYSTEMS
Wednesday, November 5, 2014 — Reynaers' latest extensions to its CP 130 and CP 155 sliding door and window solutions allow architects to create virtual seamless transitions between building interiors and the outdoor environment.
Duffel, October 2014 - Reynaers, leading European provider of sustainable architectural aluminium solutions, launches the latest extensions to its well-known CP 130 and CP 155 sliding door and window solutions. This innovation, aimed at the challenging demands of the building market, allows architects and designers to achieve much wider open spaces to the buildings' exteriors. Through seemingly endless glass walls a seamless virtual transition from a building's interior to the external expanse can be created; practically inviting the environment into the building.
Aluminium sliding door and window solutions are well known and established solutions in the building sector, but Reynaers has hereby dissolved the last remaining visual obstructions to complete transparency. This leaves users of the system with a sense of large space, allowing lots of light to enter the building. This is achieved through three key innovations that can be applied in isolation or in various configurations and combinations with one another.
MULTI-RAILS
An innovative clamping solution allows the expansion of outer frames of the system from two to up to eight rails. These multi-rail solutions allow creative designs with very large openings. Special connection pieces are available to create outer frames exceeding seven meters in length. All of this, in combination with a creative corner solution, extends the openness and infinity even further.
The system's introduction of its multirail version, offering the capacity to adopt up to eight rails, is a meaningful enhancement of its existing versions. These have been available in monorail (a moving part with a fixed glazed element, anchored directly into the outer frame profile, for the minimalistic look) and duorail (integrating two identical glazed opening vents, resulting in an aesthetic sliding door, and allowing for both vents to be sliding elements). In addition, a 3-rail solution allowing a third opening vent to be installed, enabling users to open two sliding doors to create a double-sized opening, has also been available.
THE POCKET OPTION
The CP 130 and 155 can now be cleanly integrated into the interior design. The modular pocket solution provides for up to eight vents to be slid into an integrated wall pocket, thereby creating an open space without visible elements when the window is open. Optimal flush aesthetics in the open position can be realized by applying the same colour as the wall to the finishing profile. The pocket solution is available for the lift & slide (LS) systems in duo rail, 3-rail, or up to 8-rail (multirail) compositions.
ZERO THRESHOLDS
For easy, unobstructed access, CP 130 and CP 155 are extended with an optional zero threshold solution that can be applied to ensure an uninterrupted floor finishing. The dedicated rail profiles are available in different heights depending on the floor finish. To enhance the aesthetics of the floor finish in the multirail solution, and to achieve a cleaner look, rail profiles can be stopped where the element movement stops. The zero threshold option also includes a built-in draining system (cascade-system) to evacuate water.
OPTIMIZING CONSTRUCTION CAPABILITY
Thanks to optimised construction possibilities, improved insulation and its capacity to use thicker glass (up to 42mm and with maximum weight of 300kg and heights up to 2,7m), the CP 130 meets the stringent requirements of modern construction practices.
As sliding systems are used more frequently in apartment buildings, Reynaers has developed an extension for its CP 130 for use in more demanding environments, such as high-rise constructions or in buildings located in coastal areas. By providing new components, improved water tightness performances of up to 750 Pa and wind load resistance up to 1600 Pa has been achieved. This solution is available for the Lift & Slide system.
SUPERIOR PERFORMANCE
CP 155 is a premium insulated sliding system with elevated performance levels in several respects. It fulfils the high expectations of optimum quality, high insulation and ease of operation. The system is designed to provide substantial design freedom by allowing very large dimensions of up to 3 meters in height and a maximum vent weight of 400 kg.
With its High Insulation upgrade, the CP 155 achieves insulation levels down to Uf values of 1.07 W/m²K. This results in a glazed element with insulation values lower than 1.0 W/m²K, allowing the CP 155-HI system, which is certified with a Minergie label*, to be used for low energy buildings. Water tightness of up to 900 Pa is achieved.
All types of CP 155 sliding door use stainless steel wheels and rails, for optimal and durable opening comfort. In the case of the lift & slide system, the sliding door is lifted slightly before sliding it across its rail. In the closed position, the door is put down and anchored. This stability also improves performance on isolation and theft prevention. Both systems, the slide and the lift & slide, are completely wind- and waterproof and are hermetically sealed.
Erik Rasker, Technology Manager at Reynaers, emphasizes the company's commitment to continue exploring new boundaries in innovative aluminium solution: "The two systems, CP 130 and CP 155, meet all the requirements of superior material and functional quality, but then also combined this with bespoke design and configuration possibilities that allow for exceptional aesthetical applications. With these new extensions Reynaers confirms its leading position as a reliable partner and supplier of sustainable technological solutions to architectural challenges in the demanding building market."